Marriage Skill 26: Replace Self-Condemnation with Gratefulness



Three barriers to intimacy. There are three barriers to intimacy—things we do that hinder or block closeness. We can exalt our needs (selfishness), deny our needs (self-sufficiency; self-reliance) or be ashamed of our needs (self-condemnation). In this article we will discuss the third, self-condemnation: being ashamed of our needs.

Self-condemnation (being ashamed of our needs), is a barrier to intimacy. A self-condemning person is one who says, "I know have these needs, but I feel guilty that I have them . . . if I were just a more mature person I wouldn't be so needy . . . if I just had more faith, I would't be so needy." This person believes I'm not worth having my needs met.

It is difficult to become close to this person by meeting needs because they will not usually tell you what they need. If they don't think they should even have the need, and feel guilty that they do, they will not communicate their needs by "speaking the truth in love" (Eph. 4:17). When you do meet their needs, they will not receive it or give an appropriate "thank you"—thereby robbing the giver of a need for appreciation and a feeling of impact. Closeness comes from receiving and giving, self-condemnation shuts down both.

Satan tempted Eve to be ashamed of her needs and to become self-condemning. Satan tempted Eve to be ashamed of her needs and experience self-condemnation by telling her that she would "surely shall not die!" (Gen.3:4). Satan tempted her to believe that perhaps God has lied to me because he doesn't love me or trust me . . .maybe I am not worthy of His love and trust.

Satan tempted Jesus to be ashamed of His needs and become self-condemning. Jesus was tempted to be ashamed of His needs and display self-condemnation when Satan showed Him "all the kingdoms of the world and their glory and said to Him, 'All these things I will give You, if You fall down and worship me" (Matt. 4:8) For Jesus to succumb to this temptation, He would have had to believe that He was "not worth" His Father giving them to Him. The truth is that all things were already His, for indeed "from Him and through and to Him all things" (Rom 11:36).

The prodigal son became ashamed of his needs and became self-condemning. When the prodigal son realized his father's hired hands had more to eat than he did. He thinks to himself, "I am not worth my father accepting me back as a son, but maybe he will hire me back as a hired hand" (Lu. 15:19). Now he experiences self-condemnation, ashamed that he has needs.

Replace self-condemnation with gratefulness. Do you feel guilty or ashamed for needing, air, food and water? No! God made you with those needs. Neither should you feel guilty for needing attention, affection, or comfort—because God made you with those needs as well. Begin to thank God for all the ways He does meet your needs and you will begin to realize that if God keeps meeting your needs, then to Him you must have worth!

In what ways have you replaced self-condemnation with gratefulness?
New Video Testimonial from Cheryl & Glenn
Watch six-minute preview or entire 46-minute video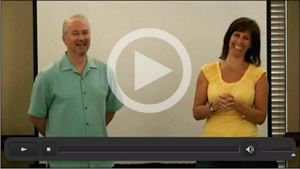 After years of marriage, reality started to hit Cheryl and Glenn, leading to arguments, divorce threats, devastating affairs, and eventually separation.

They recognized their need for counseling, but only experienced negative results from the "in-and-out" counseling approach: 50 minutes spent bringing up hurts during the weekly session followed by seven days of arguments and fights.

Then one evening Cheryl came across the Christway web site while searching for solutions to save their marriage. After much prayer, Cheryl and Glenn made the long trip from their home in Canada to meet with Karl and Terry in Houston, Texas.

During the two solid days of counseling, Cheryl realized that it was her responsibility to be obedient to Christ and to pray for her husband—rather than trying to continually throw Scripture verses and commands at Glenn.

As Cheryl and Glenn worked through steps of forgiveness learned during their counseling sessions, the wall between them began to crumble, opening up new paths of communication and relieving the tension that plagued their relationship for so many years.

Cheryl and Glenn are now thoroughly enjoying their renewed life together and encourage others to never lose hope or faith in God's plan.