Marriage Tip 15: Discern the Need of the Moment from What People Say



In a previous e-newsletter, we identified "The Top 12 Needs" behind most relational conflict. All you really have to do to upset your partner is lovingly meet the wrong need! If we are to love well and connect with others, we must become skilled at discerning people's needs from what they say.

How skilled are you at discerning the actual needs of others' by listening to what they say? Try your hand at this exercise. For each of the concerns or questions below that you have heard someone voice, what might be the needs of the moment?

Read the phrase below and select which need might most be applicable:

1. Acceptance
2. Admonition
3. Affection
4. Appreciation
5. Approval
6. Attention
7. Comfort
8. Encouragement
9. Instruction
10. Respect
11. Security
12. Support

a. "We never seem to have time to talk."
b. "Stop telling me how to drive."
c. "It's not what you say, it's how you say it."
d. "You could at least say thank you?"
e. "Would you please put your dishes in the dishwater, not the sink?"
f. "Don't I do anything right?"
g. "I just feel numb toward you?"
h. "You are late again!"
i. "Could you at least call if you are going to be late?"
j. "I am afraid of your anger."
k. "I wish you would please tell me what is going on inside?"
l. "I've really had a bad day."
m. "If you are going to make plans that involve me, please talk to me first."
n. "Why are the one who gets to make all the decisions, can't I have a say?"
o. "Don't talk down to me."
p. "I wish you were not so critical of me."
q. "Tell me about your day."
r. "Look what I did for you today."
s. "Stop telling me how to do this."
t. "Did you lock the doors and turn on the alarm?"
u. "How much did you spend on this?"
v. "My boss is a real jerk."
w. "I wish you would not drink so much."
x. "I don't feel comfortable with you spending so much time with that person."
y. "I can't do this without your help."
z. "Do I look fat in this dress?"

Have you heard your partner say these things? Could there be an unmet need?
FREE Marriage Builder Series


Couples' Group Classes

Get your PhD (Perfecting Home Development) in the essential skills of marriage and family satisfaction and become a marriage champion—one who wins at marriage by conquering its many enemies. Learn to fight off the "two-getherness-killers" like anger, fear, worry, anxiety, and resentment that can build walls of distance in a marriage.

Don't just tie the knot, but tighten the knot as you strengthen abilities to incorporate relevant and practical biblical principles of harmonious connecting. Enjoy experiential activities alone with your partner guaranteed to fortify your marriage and family relationships.

Whether you want to make a great marriage even better or resurrect a dead marriage, learn the secrets of having "a friendship on fire" as you become better friends and lovers.

Child care available by reservation!

When?
First Tuesday of every month (6:30-8:00pm) through December 7, 2010

Where?
Tallowood Main Campus, Grand Room (map)
Detailed Map of Tallowood Campus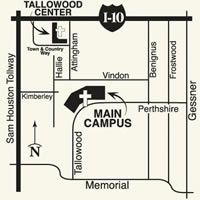 Cost
Completely free! Includes child care (by reservation).

Contact & Registration
Kim Holton
(713) 468-8241 ext. 8134
kholton@tallowood.org
Register Now