Marriage Tip 6: Receive and Give Appreciation



The need for appreciation is met by expressing gratefulness through thanks, praise or commendation—recognizing effort or accomplishment. Col. 3:15 "and be thankful." 1 Cor. 11:2 "Now I praise you because . . ."

Appreciation is saying "thank you." It gratefully recognizes effort using feelings and words. Jesus voiced appreciation to the Canaanite woman (Matt. 15:28), Mary of Bethany (Mk. 14:6), a centurion (Lu. 7:9), and John the Baptist (Lu. 7:28).

The Corinthian church was full of problems: factions, immorality, drunkenness at Lord's supper. Yet, Paul found specific things they were doing well for which to commend them: "for I praise you for remembering me in everything and for holding to the teachings" (1 Cor. 11:2). Like all of us, they probably needed some appreciation in the midst of all the correction.

Be meek. The key to meeting appreciation is to be grateful, and the key to being grateful is to be meek. A meek person is someone who has yielded their rights, needs, and expectations into the hands of God. Expectations kill gratefulness. If you expect something and receive it, you are not really all that grateful: you simply received what you expected. But if you are not expecting anything, then you are grateful for whatever you receive.

Satan's first strategy is to get us to lose a sense of gratefulness. God told Adam and Eve that they could eat of every tree of the garden except one (Gen. 2:17). Satan then came and said, "Indeed, has God said, You shall not eat from every tree of the garden?" It is as if Satan is saying, "He is withholding something good from you, what kind of God is He?" Their focus shifted from gratefulness for what they could enjoy, to the things they could not.

Gratefulness is the goal. A golf pro once told me if you keep your head down, every thing else will fall into place. Years of experience has taught me that if I can get a couple to be truly grateful to God and to each other, everything else just falls into place.

Nothing meets as many needs as quickly as praise. Praise automatically meets between eight and ten of the twelve needs; and it only takes 15 seconds to praise. Even sex takes longer (or at least it should).

Go on a praise hunt versus a sin hunt. Quit trying to catch people doing something wrong, and instead try to catch them doing something right. What were the things that first attracted you to your partner? Start by praising those things. Failing to praise causes pain. Start a gratefulness journal.

The things that most irritate you about your partner might be the things that should most appreciate. Why? Because opposites not only attract but balance out one another.

How have you given and received appreciation?
FREE Marriage Builder Series


Couples' Group Classes

Get your PhD (Perfecting Home Development) in the essential skills of marriage and family satisfaction and become a marriage champion—one who wins at marriage by conquering its many enemies. Learn to fight off the "two-getherness-killers" like anger, fear, worry, anxiety, and resentment that can build walls of distance in a marriage.

Don't just tie the knot, but tighten the knot as you strengthen abilities to incorporate relevant and practical biblical principles of harmonious connecting. Enjoy experiential activities alone with your partner guaranteed to fortify your marriage and family relationships.

Whether you want to make a great marriage even better or resurrect a dead marriage, learn the secrets of having "a friendship on fire" as you become better friends and lovers.

Child care available by reservation!

When?
First Tuesday of every month (6:30-8:00pm) through December 7, 2010

Where?
Tallowood Main Campus, Grand Room (map)
Detailed Map of Tallowood Campus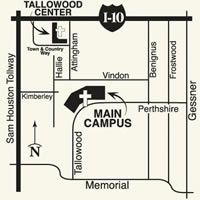 Cost
Completely free! Includes child care (by reservation).

Contact & Registration
Kim Holton
(713) 468-8241 ext. 8134
kholton@tallowood.org
Register Now