Jennifer & John
(by John)

My story actually begins almost 15 years before Jennifer and I were married. I had been married before which ended in a very sad unwanted divorce. I mention this first as a preamble because prior to the end of my first marriage, we sought out traditional "Christian counseling" in an effort to save that marriage.

We met for the traditional one hour-a-week, would spend 30-45 minutes of that hour trying to identify an issue and end up with a big open wound and only 10 minutes to attempt to address it. The last 5-10 minutes were spent writing a check for that hour. Nothing, as you can imagine, got adequately addressed and dealt with.

My shocker from this experience was that our counselor told my "ex" that he could go either way . . . if she wanted to divorce, he would help her or if she wanted to try to make the marriage work he would help her with that. Long story short, she chose to divorce and there began my skepticism with the whole concept of Christian marriage counseling. . . .
Read the happy ending to this story »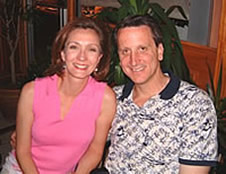 We offer various options to best meet your marriage counseling needs, depending on your unique situation and personal preferences: